Cheque Printing Software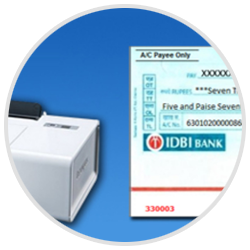 Our Cheque Printing Software has very easy Graphical User Interface that makes our Cheque Printing Software very user friendly. The Cheque Printing Software offered by us is uncomplicated and magnificent printing software for printing your cheques more accurately and more rapidly. Corporate houses and fastest growing Companies find our software as an indispensable part of their management.
For a more professional look MLM Software Kolkata's Cheque Printing Software has a format that is preset. With the help of GUI Interface you can change the format accordingly. Now you just need to insert your necessary information including name of the person, name of specific organization or company, date and most importantly the amount. In this way the database is stored in the software to be used for printing cheque details
Cheque Printing Software is fully functional and Personal software that will make your cheque printing job run faster and more easily. You can also print multiple cheques at a time. Thus you don't have to write every time, no need to alter the name or the amount of the cheques. The only task left is to print and sign your cheque. No need to buy any printer to print your cheques, our Cheque Printing Software is compatible with any other printer.
Our Feature Includes:
Support any Printer
Printing cheques for Payments
Multi Language printing cheques
Cancellation for cheques
Import from any file types (Text, Excel, Database, Tally etc)
Export cheque Details
Stop Payment on cheques
Reissue Cheques
Details Search Option of any cheque
Easy to use
Generating Various Reports
Calculating TDS Amounts
Printing different TDS Forms
E-Filing, Income Tax Returns
Printing covering letters
Perfect software for Personnel, Offices, Small Business, MLM Companies, Doctors, CA, Lawyers, Trusts, Clubs, Hotels, Hospitals, Banks or any other Business